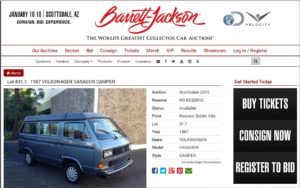 The auction house famous for high dollar sales of classic and other collectible vehicles will be offering up this 87 VW Vanagon.  It will be interesting to see what it goes for.
There is already some speculation about the history of the vehicle through title and automobile history searches.  Many are interested to see what the stock 2wd Westfalia camper will bring.
Volkswagen Westfalia and similar aftermarket campers often fetch what many consider obscenely high prices through normal selling venues.  The 4 WD Syncro Westfalia is one of the highest bringing members of the Transporter family sometimes bringing more than 75 thousand dollars.
The auction can be seen at the Barret Jackson website address:  http://www.barrettjackson.com/Events/Event/Details/1987-VOLKSWAGEN-VANAGON-CAMPER-180919