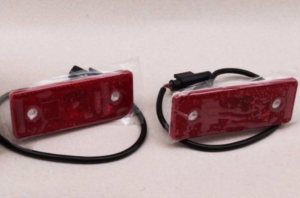 Visibility is not a huge strong point for the Volkwagen Vanagon.  Replacing them with modern LED lighting can increase your visibility to other drivers and other road hazards.  It just so happens, like many other German vehicles, that a Mercedes side marker light is an easy replacement for the old low lumen bulb side marker light.
The replacement fits the bolt holes and are slightly more narrow than the original side markers.  Being LED they are much brighter and the chances of having a bulb blow out is now none.
These Mercedes side markers are a little smaller and may show if the paint is faded. Use some cutting polish to clean up the old oxidized paint around your old light, Meguiar's G17216 cutting compound is good for this and other blemishes.  Apply some to a clean microfiber cloth and wipe it on the old oxidized paint after any dirt has been washed off.  Rub until the polish starts to dry.  With a dry microfiber cloth in circular motion wipe away the dried cutting compound and the paint should be nice and shiny.  If not do it again until the oxidation is cleaned.
The LED lighting connectors are made for the Mercedes Benz.  Unless you change your Vanagon connectors to the Mercedes Benz style you will need to attach the wires somehow.  Using either wire crimps for the proper wire gauge or blade connectors attach the wiring to the LEDs from the vans pigtail harness for the side marker light.  Make sure to tape the connector or better yet shrink tube it for a better connection.
These lights are a great replacement part for broken or missing side marker lights.  They are brighter than the original filament bulb too.  Fully sealed they will not allow water inside to create problems and comes with a new body to the light gasket.