One of the things that make a VW so popular for road trips is the unique set of kitchen cabinets and equipment available. With a propane-powered stove, refrigerator, sink, and adequate space for utensils and dishes the VW provides you with the basic kitchen necessities sufficient to keep your stomachs full while you enjoy your journey.
The trick is to create simple, yet delicious, dishes with the Westfalia kitchen which will not only satisfy your hunger but also tantalize your taste buds. Create dishes that one can enjoy while watching the sunrise across the green fields or the sunset through the branches of tall trees.
Here are the top 5 easy-to-cook one pan dishes you can make in your Westfalia kitchen.
Pasta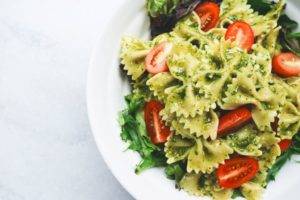 Pasta is one of those magic ingredients which you can twist and turn in any way you want to create something special. Choose your favorite pasta, cover it with a sauce of your liking, and top it off with herbs and nuts. It couldn't get easier than this.
Fettuccine Alfredo:
One of the easiest pasta dishes to prepare is fettuccine alfredo.
Cooking time: 30 mins
Servings: 4
1. Boil 1 lb. fettuccine in salt water and cook as per instructions on the packet.
2. Once the pasta is cooked, drain the water. And while draining, keep aside one cup for cooking.
3. In a pan, add half cup butter and half cup cream.
4. Cook over the stove until both have blended in well together.
5. Add half cup grated parmesan to this mixture and whisk.
6. Season with salt and pepper.
7. Add the reserved cup of pasta water and mix well for ten minutes. Then remove from heat.
8. Add the cooked pasta and let it soak in the delicious sauce.
9. Add your favorite herbs and nuts and make the dish more personal.
Chicken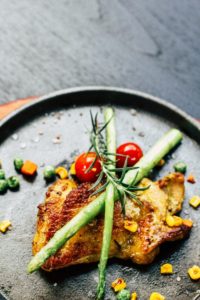 When it comes to meat, chicken holds its place for a hassle-free quick-cooking meal. Chicken is not only easy to cook, but also takes less time and effort while preparing and cleaning. The fact that the chicken meat cooks fast is an added advantage as one can easily cook it in a pan over a basic stove, sans the fancy equipment. A quick wash before you start, 10 to 15 minutes for the meat to cook, some vegetables and spices as per your liking and voilà! You have a satisfying hearty meal ready.
Grilled chicken breast with lime and cilantro:
With 7 ingredients and only 3 steps, this is one of the simplest chicken dishes you can prepare.
Cooking time: 30 mins
Servings: 4 to 6
1. In a bowl, add half cup cilantro, half cup lime juice, salt, pepper and olive oil. Whisk them well together.
2. Add two pounds boneless chicken breasts to the marinade and keep aside for 20 mins. These can also be marinated ahead of your trip and stored in the refrigerator.
3. In a pan over high flame, add a tablespoon olive oil and the marinated chicken breasts. Cook for 5 mins on each side.
Enjoy the dish under the shade of streamside trees with your family.  Or enjoy it alone in solitude.
Oatmeal
Here's something healthy and tasty for your sojourn – Oatmeal. Packed with nutrients, oatmeal is the energy-booster you need on your strenuous trek and challenging adventures. With a variety of brands and flavors available, you can stop at any store, whenever you are hungry, and fill up your bags with the oatmeal of your choice. Milk or water, hot or cold, peanut butter or raspberry jam, nuts or choco chips, bowl or cup – the choice of how to cook the oatmeal is entirely yours. Any way you choose to prepare it, you can be sure it will be ready in less than 15 mins.
Fresh Fruit Oatmeal:
Fresh fruits, oatmeal, and milk – it's health served in a bowl.
Cooking time: 10 mins
Servings: 2
1. Add four cups milk in a pan over the stove.
2. Bring the milk to a boil and add one cup oats.
3. Reduce the heat, add salt or sugar as per your taste, and stir the mixture for 5 mins, until it is cooked.
4. Add diced fruits of your choice to the oats.
Enjoy your dish hot or refrigerate it overnight and serve it cold.
Rice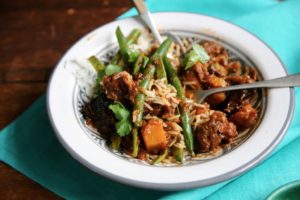 Rice is a versatile ingredient that goes well with everything from vegetables to meat. You can do wonders with one bowl of rice and whatever is available in your Westfalia kitchen. It saves you the time looking for a supermarket and gives you the privilege of enjoying your trip without worrying about the next meal. Chop up a few vegetables or use the fish from last night's dinner, anything served with a bowl of rice is a complete dish.
Rice with sausage and beans:
This dish is a simple mix of basic ingredients that has something for everyone.
Cooking time: 30 mins
Servings: 6
1. Cut 1 lb. sausage into half-inch dices and sauté in a pan over the stove until lightly browned.
2. Once cooked, transfer the sausages into a bowl and keep aside.
3. In the same pan, sauté half a cup of onion, two tablespoons chopped garlic, and 14 ounces of red kidney beans, for 5 mins.
4. Add one cup rice, sauteed sausage, salt, and two cups water to the pan.
5. Cover the pan and cook in medium heat till the rice is tender.
Relish the dish under the light from the stars.
Eggs
Cheap and effortless to cook, and full of protein, eggs are your new best friend on your road trip. With a variety of ways to cook them from an omelet to boiled, eggs are tasty by themselves and require very little seasoning.  Store them in plastic hard egg containers or prepare them ahead of time by cracking and blending them to store in a jar or food storage saver.
Corn and Goat Cheese Omelette:
Here is an appealing dish with simple ingredients.
Cooking time: 20 mins
Servings: 2
1. In a bowl, whisk two eggs, salt, black pepper and half cup corn kernels.
2. On a pan, add one tablespoon butter and wait till it melts completely.
3. Add the egg mixture and cook without stirring.
4. After 5 mins, sprinkle two tablespoon goat's cheese over the mixture in the pan and cook till the omelet is set.
5. Serve the omelet on a plate and garnish with herbs of your choice.
An array of common ingredients and a pan is all you need to cook up something fresh and yummy in your Westfalia kitchen. And with a variety of simple easy to cook dishes out there, you can enjoy a fulfilling home meal in the comforts of your VW.
by Megha Kn