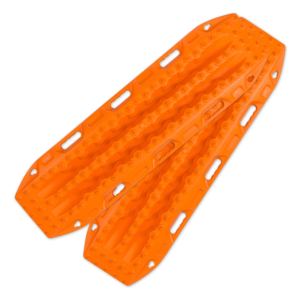 Having something to help get you unstuck when dirving in the snow or offroad is a given.  If you are going to have something then it better work, especially if it is bolted or strapped to the outside of your Transporter van.  There are several recovery board options avaiable but MaxTrax is the most reliable of the bunch.
There are many knock off brands that are similar to the Maxtrax MKII's
.  Most of them can be considered as having only one season as a useable life, if you use them.  Some of them have been known to be brittle and break when used in the cold for snow recovery.  Some are not strong enough to be used to bridge holes and drive over the obstacle.  Still, others have the traction grips wear off the first time they are used.  Also space is a premium in any vehicle so stacking isn't optimal in many of the cheaper models and don't nest like MaxTrax boards do.
MaxTrax excel in bridging uses and maneuvers where cheaper versions or alternate materials would fail.  Carpet can get you out of some sticky situations but carpet will not work for bridging a hole or crevice. Sometimes a Hi Lift or airing the tires down just doesn't cut it.  MaxTrax works where many other methods fail.  It's a great tool to have for insurance especially when you are off the beaten path.
MaxTrax recovery boards are most commonly thought to be used for traction in mud, sand, and snow but they also offer many other uses.  Obstacles such as rock ledges, trees, and approach angles that are too steep for your vehicle can be breached by using the MaxTrax as ramps to clear the obstacles.  Using the MaxTrax boards to drive over ruts or washouts are very useful as well.
Using the MaxTrax boards to drive over perpendicular ruts or washouts are very useful as well.  It may be necessary to use two or three stacked on top of each other depending on how wide the ruts are.  The more boards you add the stronger they are and the less they will flex.  Using one or too few in a deep crossing may result in the MaxTrax bending into the rut and not offering traction.  Double them up, or higher, if you need to be sure.
Everything seems like it is an uphill battle when losing traction but MaxTrax baords can really help get through it.  Placed in ruts in the mud or even sand where you start losing traction can make a huge difference and give you the extra harumpf you need to make it.  Place it in the rut with the direction you are going for extra traction.
Versatility with the MaxTrax boards allows you to be creative as well when you are butting heads with the terrain.  Technical obstacles can be a real headache when you have to make several maneuvers through rocks or downed trees.  Using the MaxTrax you can use whatever you can find laying around to help build a track to clear your obstacles.  Strategically placing the MaxTrax and using found materials to support them can get you past where most others have to turn back or call a tow truck.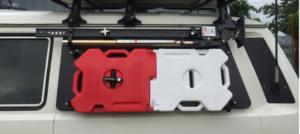 Mounting and storing MaxTrax on the Transporter has many options.  Rear liftgate tire mounts used on many Vanagons especially give an excellent place to mount the traction boards.  VanagonLife.com offers for the Vanagon an option to remove the far rear driver's side glass and replace it with a sheet metal Molle mount that allows the MaxTrax to be stored there along with a Hi Lift jack as well as others.  The Vanagons front luggage tray also is a perfect storage area, like it was made to hold the MaxTrax boards.
There's no need to hope someone comes along to either help you get unstuck or call a tow truck.  With the MaxTrax boards stowed away onboard you have the comfort and ability of knowing how to avoid getting stuck in the first place.  There's more important things to worry about, like whether or not you want to sleep in late or take an early walk around the lake.